Band members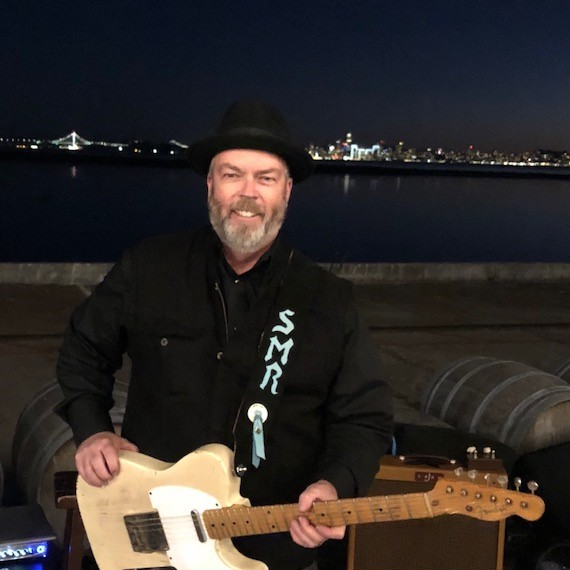 Shawn Ridley
Guitarist
For 2+ decades, Shawn Ridley has been an influential contributor to the Bay Area music scene. A journeyman guitar player and devotee to the early blues and R&B masters, Shawn earned his stripes playing the music he loves in many of the Bay Area's most respected clubs -- The Ivy Room, The Saloon, John Lee Hooker's "Boom-Boom Room", Moe's Alley, Slim's, The Blue Lamp, Biscuits & Blues, Lou's Pier 47, Eli's Mile High Club and JJ's Blues in San Jose, to name but a few.
A weekly residency as one of JJ's house guitar players in the 1990s afforded Shawn the opportunity to meet, play and learn from many of his heroes, including Jimmie Vaughan, Buddy Guy, Anson Funderburgh, Derek O'Brien and Johnnie "Clyde" Copeland, as well as local heroes Tommy Castro, Chris Cain, Johnny Nitro, Chris Cobb, JC Smith and many others.
A disciple of the "less is more" school of guitar playing, Shawn spent the early 2000s playing and touring with saxophone great Frankie Ramos, an alum of Little Richard's band. After a 5-year stint with the Frankie Ramos Band, Shawn formed several of his own blues/rock outfits, including Bay Area favorites The Sinners and The Mile. Since 2018, Shawn has been holding down rhythm and lead guitar duties with Norman Collins & The Tumblers, an original roots rock/Americana band fronted by Collins, a talented singer, songwriter, and guitarist who has been rocking the San Francisco music scene since the 1970s.
Shawn's superior guitar skills are featured throughout Norman Collins & the Tumblers latest 2021 release "What the Cat Dragged In".
Tom Mcmanus
Bassist
Tom has been playing bass and singing for his entire adult life in a variety of eclectic rock, pop, and blues bands in and around the SF Bay Area.
These have included such acts as Brother Buzz, Promised Land, Tonal Recall, Phil McGee and Friends along with Tommy Meisel Blues Band. His impressive background includes performances in a wide variety of night clubs and event spaces. These include Lou's Pier 47 and Recovery Room in San Francisco, Irongate Restaurant and St James Gate in Belmont, Half Moon Bay Brewing Company, Ashkenaz (Berkeley), San Pedro Square (San Jose), and the Mildred Owen Concert Hall in Pacifica.
His love for improvisation has been inspired by the music of the legendary Allman Brothers Band and The Grateful Dead. Additional influences, including the classic sounds of Motown, classic rock, country, top 40, and blues, have given him a deep respect for how the bass functions as a link between the harmony and rhythm elements of music. Tom's support as Bassist with Norman Collins and the Tumblers along with his vocal talents help drive the live shows. Tom also performed on the latest recording released in 2021 "What the Cat Dragged in".